Physical belongings aren't the only things that need to be organized—digital spaces need it too! In a technologically advanced world, documenting life experiences and important events is moving from paper forms and printed photos to digital storage.

Photographs and Video Organization Service
With technology at your fingertips (or tucked in a back pocket), you can take photos and videos whenever possible. There is no longer any restriction on how many you can take or how long you can record—tapes and rolls of film are a thing of the past! This leads to massive files of images without any real organization.

To make space on their phone, people will typically practice what is called a "photo dump." Either transferring a bulk number of images and videos to social media, online storage, or to their computer or hard drive. For most, this goes into a main folder or album without much organization as to where the pictures were taken or when.

Without the digital organization of your photos and videos, it can make it difficult to locate a specific image when you would like to share or recall that particular memory.

A White Knight Organizer can sort your images and videos into digital albums and arrange them in a manner that makes the most sense for you. They will also instruct you on how to continue to use your new digital filing system to keep up with your mass photos and maintain an organized method of downloading and storing them.

Printed Photographs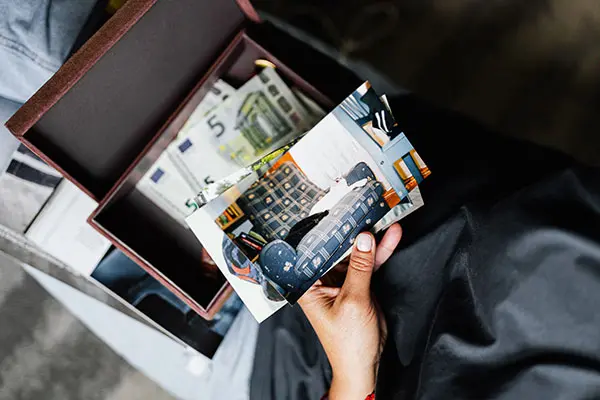 Over time, printed photography can become damaged with age or by regular handling. White Knight Organization can come to the rescue and help to preserve these printed images by scanning them to your computer and then sorting the images into designated files.
Other Digital Organization Services
Images aren't the only files people can have difficulty keeping organized. Whether your paper documents are overflowing your filing cabinets and you'd like to go digital, or you need assistance honing your digital file organization skills, White Knight Organizing can come to the rescue!
Scan and digitize important paperwork.
Create a filing system based on your preferences.
Sort digital files into their appropriate computer folders.
Train you to maintain your new digital system.
Tax Documents
Tax Documents
Secure your documents in a digital vault while minimizing clutter from years' worth of paperwork.
Insurance Paperwork
Insurance Paperwork
Medical, life, dental, vision—keep all your insurance paperwork stored neatly in easy-for-you-to-access digital folders.
Medical Documents
Medical Documents
Add organization to your document-keeping by separating claims, invoices, and receipts from insurance documentation.
Veterinarian Documents
Veterinarian Documents
Retain your vet records for each pet in a safe location.
Warranties & Manuals
Warranties & Manuals
These documents are the ones we are never sure about ever getting rid of—just in case.
Home & Car
Home & Car
Digitize documents pertaining to the lease or purchase of property, vehicles, or a home.
Why White Knight Organizing?
Ashley is the lead organizer with a BA in Organizational Management (not just a certificate—very rare in the industry!) Her experience and skill come from more than just a desire or hobby to help people get more organized. She also holds a Master of Arts in Teaching and Learning with Technology, so assisting clients with learning their new organizational system, especially digital systems, and coming up with life hacks to keep them out of chaos comes more than naturally.

White Knight Organizing follows the standards of ethics set by the National Association of Productivity and Organizing Professionals (NAPO). Ashley is a provisional member of NAPO and is actively pursuing NAPO certification. White Knight Organizing is a current member of Business Network International (BNI Platinum) of Tampa Bay. White Knight Organizing and its employees will always protect your HIPAA-related and personal information.

Request Consultation

Call (813) 344-3760 or fill out the form below to request a complimentary consultation on your decluttering and organizing project. We will contact you to schedule your consultation.
Request Consultation