Chaotic &
Cluttered?


Let A White Knight
Come To The Rescue!
Meet Your White Knights!
They come dressed to handle your mess; Their shining armor is merely metaphorical!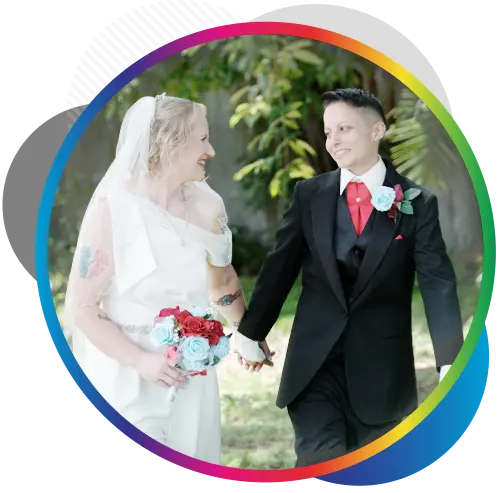 Meet the Whites, Ashley and Sarah, our founders. This wife and wife duo love helping others—not only in organizing their home or office life, but also in everyday life as first responders!

Ashley is the lead organizer with a BA in Organizational Management, not just a certificate (very rare in the industry!). Her experience and skill come from more than just a desire or hobby to help people get more organized. She also holds a Master of Arts in Teaching and Learning with Technology, so assisting clients with learning their new organizational system and life hacks to keep them out of chaos comes more than naturally.

White Knight Organizing assists business owners and homeowners in regaining control of chaos—physical and digital—while building a system to maintain organization for long-term order.

These systems may include shelving, bins, and other physical storage products, but may also include training and knowledge of how to sort and put away new material within the system.

The organizational skills of White Knight Organizing expand beyond existing chaos; our White Knights also help those who are moving to prevent carrying chaos with them. A White Knight will help you pack (and eliminate non-essentials from coming with you) and set up a coordinated system for your belongings in your new home.

White Knight Organizing follows the standards of ethics set by the National Association of Productivity and Organizing Professionals (NAPO). Ashley is a provisional member of NAPO and is actively pursuing NAPO certification. White Knight Organizing is a current member of Business Network International (BNI Platinum) of Tampa Bay.
Decluttering & Organization Services
Regain control and establish a system to keep your space clear of chaos.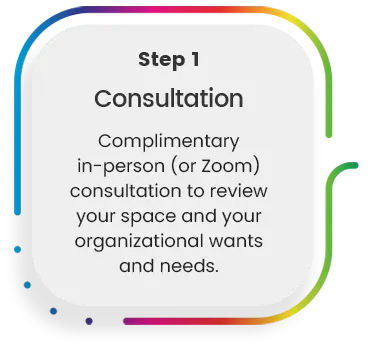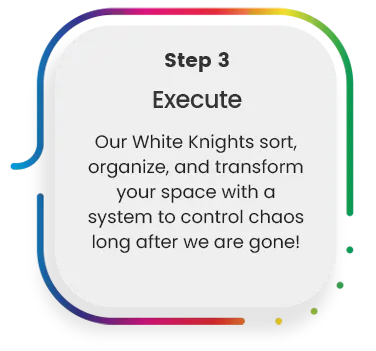 Packing & Unpacking Services
Regain control and establish a system to keep your space clear of chaos.
Packing always reveals just how much stuff you own! Get help sorting and packing your belongings for your move and prevent unnecessary items from traveling with you and cluttering up your new home. The White Knights can also travel to your new place and help you unpack and methodically put away your belongings, so your new place has an organized start.
Learn More
Chaos & Clutter Overwhelming You?
LET A WHITE KNIGHT COME TO
YOUR RESCUE!
Take the first step towards controlling your chaos! Submit your details below to request a consultation. One of our Knights will give you a call and get you on the path to a more organized way of life.
Frequently Asked Questions
Some projects only require one organizer and others demand an extra set of hands or two. White Knight Organizing bills projects at a rate of $65/hour per organizer (plus costs of organizational and storage products). Removal and donation of unwanted property/belongings are included at no additional charge (with limits).

Is there a discount for military or first responders?
Your White Knights, Ashley and Sarah White, are first responders, so they are familiar with the demands of the job. As a "Thank you" for what you do for your community and country, first responders and military are billed at a discounted rate of 10% off the whole project (not including costs of organizational and storage products).
What areas does Whight Knight Organizing service?
Your White Knight Organizer will travel up to 50 miles outside of zip code 33558.
Will I be billed for organization and storage products that are not used?
Unused organization and storage products will be returned and removed from the final bill. You will only be charged for the products that are agreed upon and used for the project.
Do I have to be present or help?
You can have as much or as little involvement as you want! Of course, some questions will have to be answered about your belongings, but otherwise you can leave it up to your White Knights to complete the project on your behalf.
How can I stay organized once my White Knight has gone?
A White Knight will be happy to come back and help whenever you need it, but the goal is to create a system that works for you long after the initial project. They will also teach you some tips and tricks to help you stay on track.
How big of a mess is too big?
White Knight Organizing does not offer housecleaning services. While your White Knights can help create order out of chaos, they are not certified to provide services for severe hoarding cases, as these often require more specialized services.

More FAQs